Blom-Singer® Post-Operative Care Kits

Blom-Singer® Post-Operative Care Kits
InHealth Technologies is pleased to announce the introduction of our new Post-Operative Care Kits, developed with valued input from clinicians and laryngectomy patients.
The Post-Operative Care Kits are designed to provide post-op total laryngectomy patients a transition to home care while addressing pulmonary and voicing rehabilitation.
The Post-Operative Care Kits include the recently introduced StomaSoft Laryngectomy non-fenestrated tube that will accept Blom-Singer EasyFlow or ClassicFlow HMEs.
All configurations come in a hard, easy-to-wipe-clean storage case and include a Marpac Tracheostomy Collar, Blom-Singer Shower Guard, mirror, LED flashlight and drawstring bag.
Each kit also includes information on how to receive our new Next Steps follow-up kit which has additional products and educational items.
For more information or to order, click here or call InHealth Technologies at 800.477.5969.
Post-Op Kits PK 2100, PK 2101, PK 2102, PK 2103, PK 2106 and PK 2107
All 6 of these kit configurations contain the following patient care supplies:
1 ea. 204 Marpac Tracheostomy Collar




(for Laryngectomy Patients) Adult

1 ea. BE 6048 Blom-Singer Shower Guard

1 ea. Drawstring Bag

1 ea. Mirror with stand

1 ea. Halcyon LED Flashlight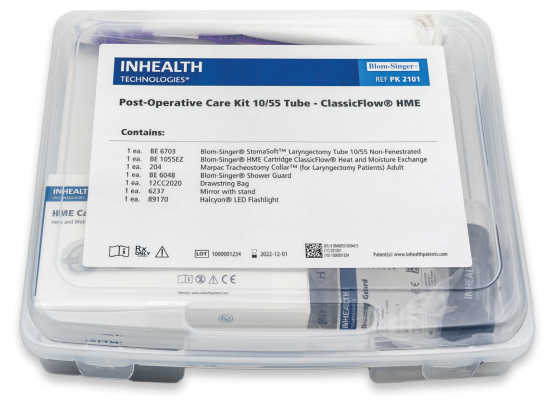 PK 2100

 

1 ea.

BE 6701

Blom-Singer StomaSoft Laryngectomy Tube 9/55 Non-fenestrated

1 ea.

BE 1055EZ

Blom-Singer HME Cartridge ClassicFlow Heat and Moisture Exchange

PK 2101

1 ea.

BE 6703

Blom-Singer StomaSoft Laryngectomy Tube 10/55 Non-fenestrated

1 ea.

BE 1055EZ

Blom-Singer HME Cartridge ClassicFlow Heat and Moisture Exchange

PK 2102

1 ea.

BE 6701

Blom-Singer StomaSoft Laryngectomy Tube 9/55 Non-fenestrated

1 ea.

BE 1055EF

Blom-Singer HME Cartridge EasyFlow Heat and Moisture Exchange

PK 2103

1 ea.

BE 6703

Blom-Singer StomaSoft Laryngectomy Tube 10/55 Non-fenestrated

1 ea.

BE 1055EF

Blom-Singer HME Cartridge EasyFlow Heat and Moisture Exchange

PK 2106

1 ea.

BE 6705

Blom-Singer StomaSoft Laryngectomy Tube 12/55 Non-fenestrated

1 ea.

BE 1055EZ

Blom-Singer HME Cartridge ClassicFlow Heat and Moisture Exchange

PK 2107

1 ea.

BE 6705

Blom-Singer StomaSoft Laryngectomy Tube 12/55 Non-fenestrated

1 ea.

BE 1055EF

Blom-Singer HME Cartridge EasyFlow Heat and Moisture Exchange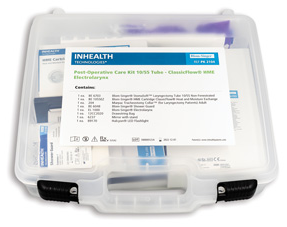 PK 2104

 

1 ea.

EL 1000

Blom-Singer Electrolarynx

1 ea.

BE 6703

Blom-Singer StomaSoft Laryngectomy Tube 10/55 Non-fenestrated

1 ea.

BE 1055EZ

Blom-Singer HME Cartridge ClassicFlow Heat and Moisture Exchange

1 ea.

204

Marpac Tracheostomy Collar (for Laryngectomy Patients) Adult

1 ea.

BE 6048

Blom-Singer Shower Guard

1 ea.

Drawstring Bag

1 ea.

Mirror with stand

1 ea.

Halcyon LED Flashlight
PK 2105

 

1 ea.

IN 1608-SO

Blom-Singer 16 F. 8mm Classic Indwelling VP Sterile Option

1 ea.

IN 1610-SO

Blom-Singer 16 Fr. 10mm Classic Indwelling VP Sterile Option

1 ea.

IN 4069

Blom-Singer 16 Fr. Plug Insert

1 ea.

BE 6703

Blom-Singer StomaSoft Laryngectomy Tube 10/55 Non-fenestrated

1 ea.

BE 1055EZ

Blom-Singer HME Cartridge ClassicFlow Heat and Moisture Exchange

1 ea.

204

Marpac Tracheostomy Collar (for Laryngectomy Patients) Adult

1 ea.

BE 6048

Blom-Singer Shower Guard

1 ea.

 

Drawstring Bag

1 ea.

 

Mirror with stand

1 ea.

 

Halcyon LED Flashlight