PROFESSIONAL WEBINAR SERIES
Past Professional Education Offerings:
Early Intervention in Total Laryngectomy Care: Pre-and Post-Operative Considerations
Total laryngectomy is a life-altering surgery that impacts some of our most basic functions: breathing, communicating and swallowing. Speech-language pathologists play an integral role in the care of patients who undergo total laryngectomy. This care ideally begins before surgery, then continues to the post-operative phase and many times for the rest of the patient's life. In this webinar, we will discuss the role of the SLP in the earliest phases—pre- and post-operative care—and review the evidence that supports our goals.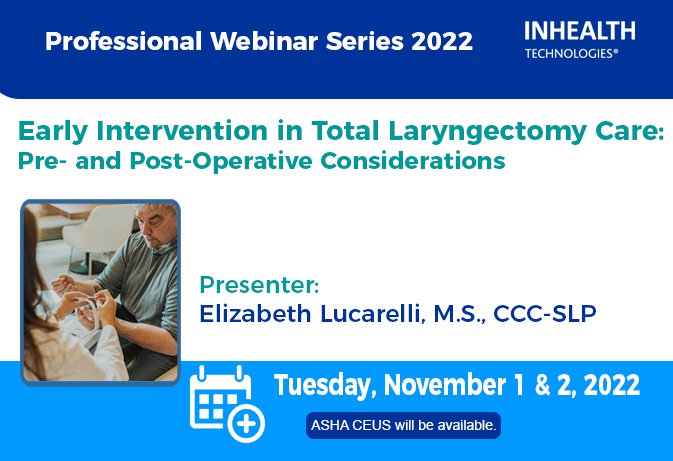 Past Professional Education Offerings:
Updates in HME: Evidence, Ethics, and Expectation 
Heat Moisture Exchangers (HMEs) have been widely accepted into practice and are now standard of care in pulmonary rehabilitation for the patient with a total laryngectomy. But the landscape of HMEs is changing, so what does the science say about that? We know that sizing matters for a voice prosthesis, but does it matter for an HME? Who are all these changes to HMEs serving? It may not be who you think. Join us for this live, one-hour webinar as we let science and HME research be our guide.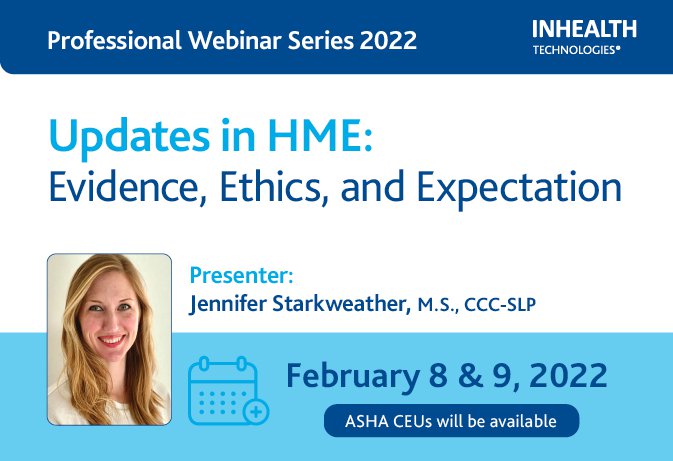 SpeakFree HME: Breaking Down Barriers for Hands Free Speech
Join us Nov 9, 2021, to learn how the new SpeakFree HME single-use, daily disposable HME allows for hands free speech opportunities to laryngectomees, breaking down access barriers and increasing ease of use. Our clinical Specialists will introduce the new SpeakFree HME, share patient testimonials, and discuss billing and reimbursement. Join us for 30 minutes to learn how to help your patients break down the barriers and start using hands free speech today.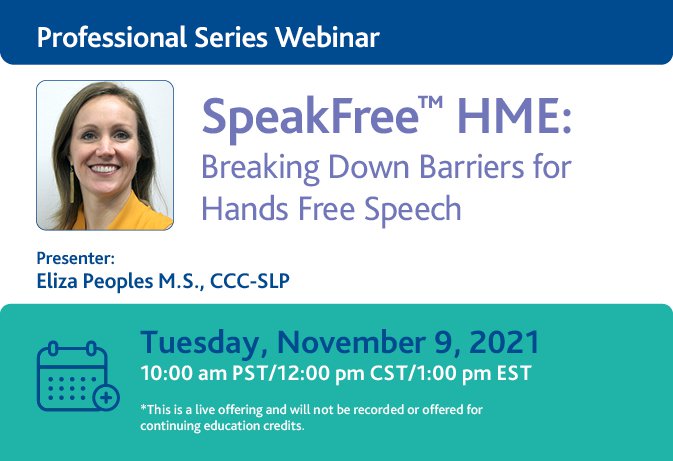 Considerations for Tracheoesophageal Voice Prosthesis Selection*: Shifting "How To?" to "Which One?" 
Evaluating and fitting a tracheoesophageal voice prosthesis (TEP) includes both manual skill and clinical decision-making. With so many different options available – how do we choose a voice prosthesis for our patient? This live, one-hour webinar will review the mechanism of a voice prosthesis for tracheoesophageal speech and the design features of the Blom-Singer line of voice prostheses. Troubleshooting early prosthesis failures, clinical considerations, and prosthetic options will also be discussed.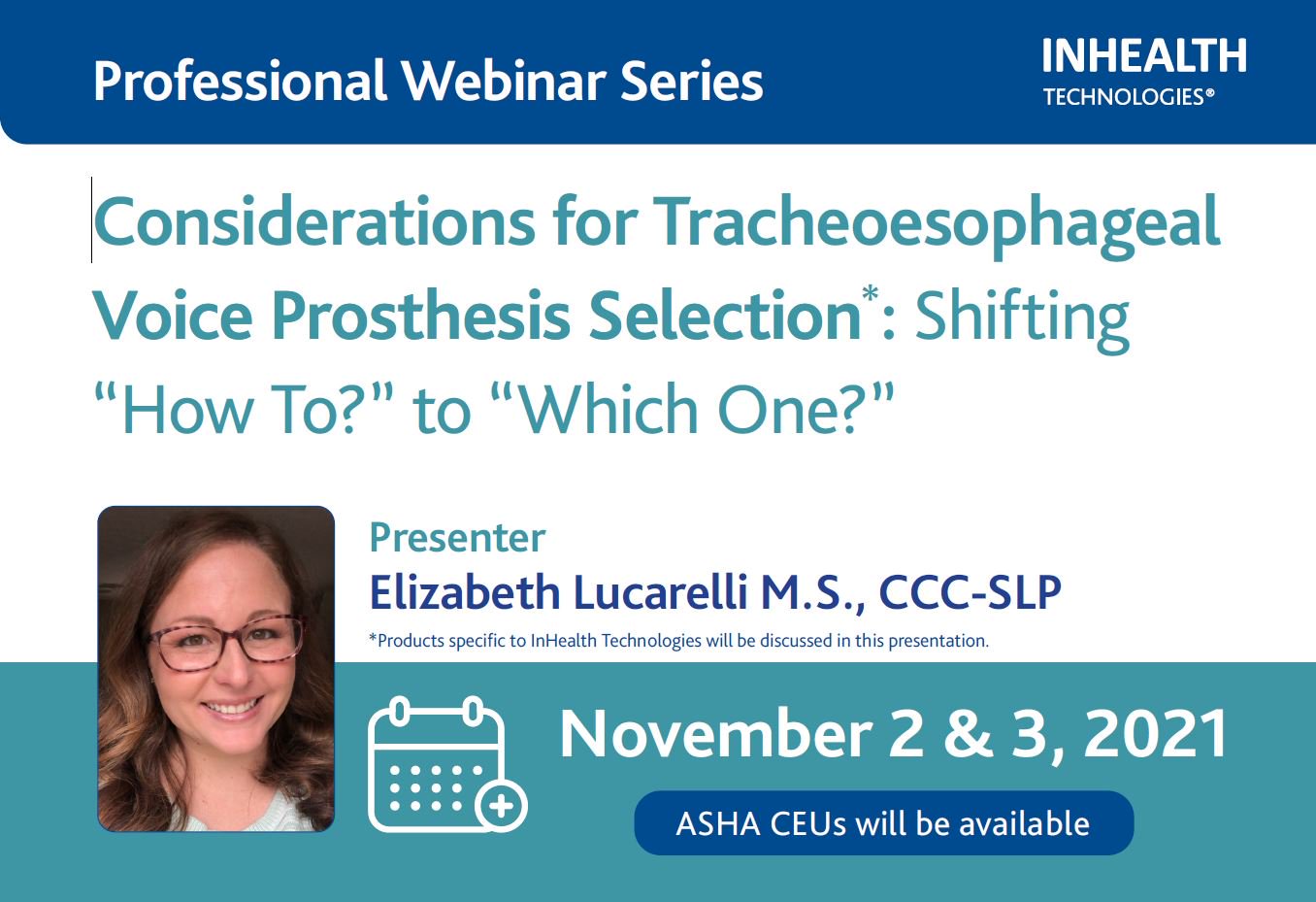 Live Patient Conversation: SpeakFree™ Hands Free HME
August 3, 2021 12:00 PM Eastern, 9:00 AM Pacific
Join patient consultants, Mark Lanfersieck and Bill Murin, as they share their experiences with the new SpeakFree Hands Free HME! This innovative new technology expands hands free access to TEP users in a simple, single-use cassette with an adjustable hands free valve.
In this patient conversation, we're talking all things HME! Mark and Bill will showcase their tips and tricks for applying their specific HME attachments, and their experience going hands free with the SpeakFree HME. This conversation will be moderated by Morgan Greve and Elizabeth Lucarelli, speech pathologists and clinical specialists with InHealth Technologies.
All are welcome to participate in this event. Please note, ASHA CEUs will not be available.
LIVE PATIENT

CONVERSATION
TUESDAY, AUGUST 3RD
12 PM CST
SpeakFree™ Hands Free HME
SpeakFree™ Hands Free HME
Demonstration and Live Q&A
June 30, 2021
We are excited to announce SpeakFree Hands Free HME. This innovative new technology expands hands free access to TEP users in a simple, fully assembled HME cassette with an adjustable hands free valve. You have questions? We have answers. Join us to see why it's a game-changer!
Clinicians, laryngectomees, and laryngectomy loved ones are all welcome to participate. Please note, ASHA CEUs will not be available.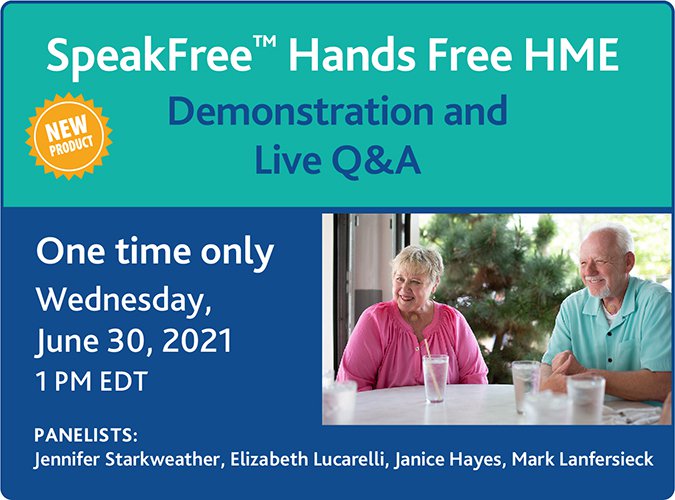 Hands Free Speech: Expectations, Challenges, and Expanding Access
with LIVE DEMONSTRATION
June 8-9, 2021
Hands Free Speech in TEP Users: Simple in theory, but currently not so easy in practice. What if understanding the mechanism behind it gave us some practical steps to achieve that elusive goal and who might be able to achieve it? This one-hour live, interactive webinar will discuss hands free speech in-depth, how to troubleshoot, and how to provide more patients with opportunities for hands free speech.  What if we changed the way we thought about hands free speech entirely?
It's All About That BASEplate…Or Is It?
April 6-7, 2021
After creating some maps to help navigate the peaks and valleys of peristomal assessment for HME attachment on our last webinar, the Clinical Team at InHealth Technologies is bringing our years of clinical experience to a candid, round table discussion on stoma management. This live, clinical conversation, lasting approximately 45 minutes, highlights the application of a systematic approach to stoma management through case discussions. Audience participation is encouraged.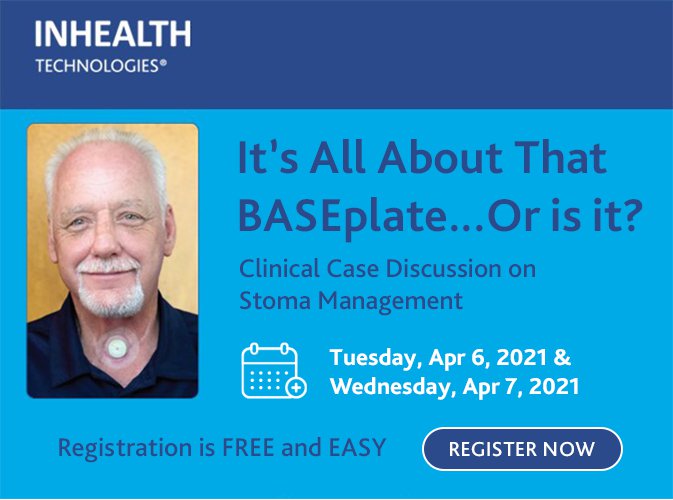 Navigating the Peaks and Valleys of Peristomal Assessment for HME Attachments
February 9-10, 2021
Benefits of an HME (Heat Moisture Exchange) system use are well documented; however, achieving success can be an uphill climb. To avoid baseplate attachment trial and error, reduce waste, and achieve optimal HME use, systematic evaluation of the peristomal area is a necessary skilled service that ultimately fosters patient success. This 1-hour live webinar will use lecture and case example discussions to address the evaluation of peristomal features that may impact HME attachments and strategies for when situations get a little…sticky.
This webinar will discuss products primarily manufactured by InHealth Technologies®
Virtual Laryngectomy Conference
November 16-21, 2020
Key opinion leaders in the fields of voice restoration and head and neck oncological surgery presented their valued expertise, research, and unique clinical experiences on a virtual platform.   Over 19 lectures were offered and over 2,100 hours of continuing education hours were offered.  The conference was a resounding success and included a diverse audience with participants representing the US and 39 other countries. This instance of high-level global engagement and compelling educational programming once again underscores InHealth Technologies as the continuing education provider of choice and a leader in the field of ear, nose, and throat products.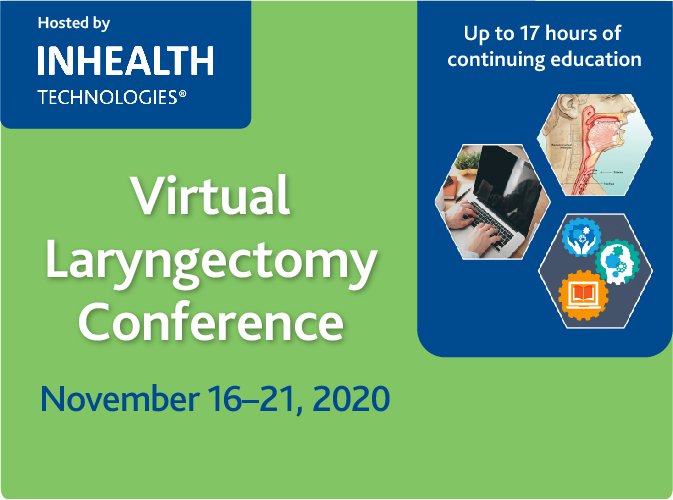 Swallowing Function Following Total Laryngectomy Webinar
Guest Presenter Dr. Julia Maclean
August 11-12, 2020
Dr. Maclean presented a one-hour lecture* on swallowing after total laryngectomy, the best way to assess function and dysfunction, and evidence-based treatment options to provide comprehensive rehabilitation to patients.
*Recordings of this webinar are not available at this time.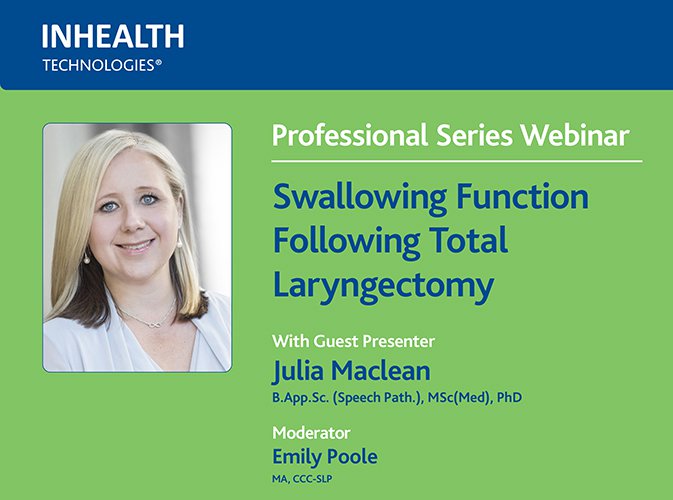 The InHealth Technologies® Professional Series Webinar is an ongoing global educational opportunity. These evidence-based educational offerings are offered four times a year. Sign up for our ProNET newsletter to receive advance notice of upcoming live educational offerings or recordings of previous ones as they are made available for on-demand viewing.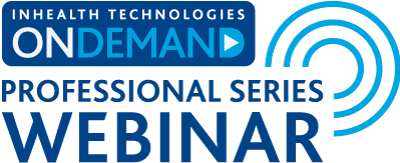 InHealth Technologies has proudly provided ASHA education credits for speech-language pathologists since 2010.
Each regional territory at InHealth Technologies includes a dedicated territory manager, an SLP clinical specialist, and a patient consultant to support both patient and healthcare professionals and help address the evolving needs of the laryngectomy community.
Northeast
David DiToro
Senior Territory Manager
Southeast
Gary Abbott
Senior Territory Manager
Midwest
Jin Kim
Midwest Territory Manager
West
Keith Rhoades
West Territory Manager
Northeast
Morgan Greve
M.A., CCC-SLP
Southeast
Jenn Starkweather
M.S., CCC-SLP
Midwest
Elizabeth Lucarelli
M.S., CCC-SLP
West
Eliza Peoples
M.S., CCC-SLP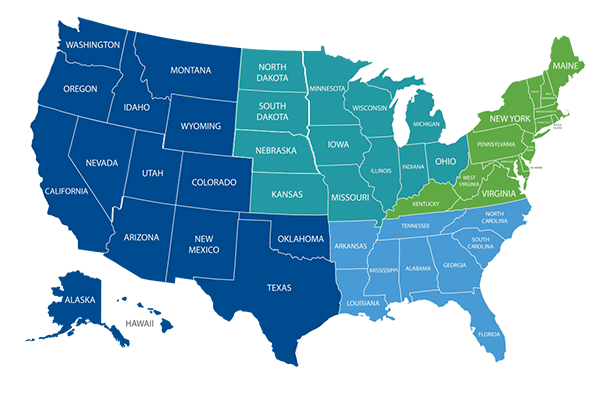 The clinical team at InHealth Technologies is comprised of experienced speech-language pathologists that offer comprehensive clinical education and support to both health care professionals and patients alike. From TEP troubleshooting to online webinars and scientific journal article reviews, the US-based clinical team is committed to supporting both the healthcare professionals and laryngectomee communities with evidence-based and experiential knowledge, to share their expertise to improve people's lives. To contact a member of the clinical team, please email education@inhealth.com.
Kevin Madden
US Sales Director
Emily Poole
Clinical Manager
Gary Abbott
Latin America Business Development Managerr